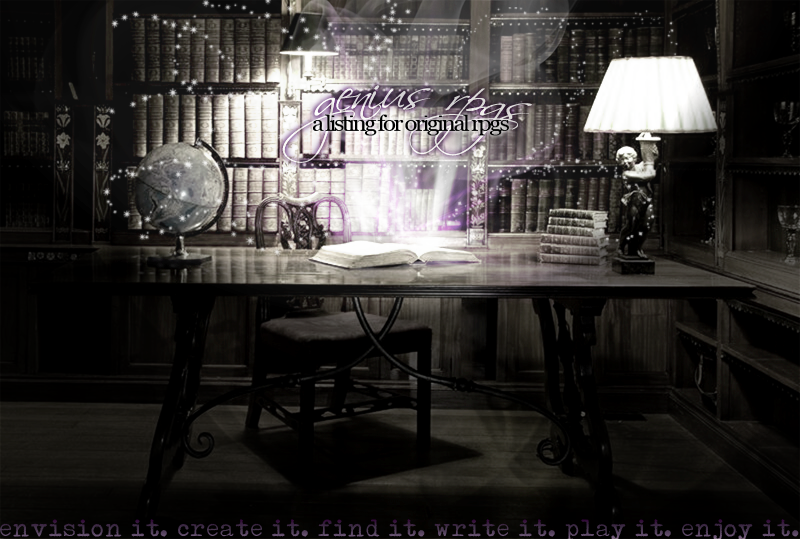 Welcome to Genius RPGs,
a listing of the top original play-by-post roleplay forums.

All sites listed here have plots that are based off of original concepts and ideas
as opposed to sites following television shows, books, comics, or films.

Add Your Site | Member Login
Search For a Site:
Site Of the Moment:


Moon Called


We are an AU Mercy Thompson / Alpha and Omega Universe board. We have a word count of 250 words per post, some book canons to choose from, and lots of plots to be had. We have a full traditional application, monthly awards, friendly admin, and lots of oth
Rank
Site
Rating
In
Out

26

Falling Pieces



NR
0
0
Falling Pieces is a retro superhero RP. The year is 1955 and the two cities of Herron and Mercury are in trouble. 7th Sanctuary, led by Nocturne and Tempest Godspawn have seen to it that they are in absolute control. The heyday of the Super has long ended



27

- - HIDE&SEEK.



10.00
0
0
The Kingdom of Roanth, a once beautiful and peaceful place, now in ruins. Hearts are being broken, and vows are being betrayed as tensions run high. On the brink of war, what shall happen to this once wondrous land??



28

The Asylum



NR
0
0



29

TURNER CLASSIC



10.00
0
0
This is the time of "way back when". Most commonly referred
to by your grandparents. A time of 10 cent gas and brand
new 1000 dollar cars. A time where total wars still rage on,
taking your brothers, husbands, and fathers away to fight
without their s



30

CONCRETE JUNGLE



10.00
0
0



31

bitter . taste



10.00
0
0
A world-wide black-out has just occurred. Psychological terrorism is the newest thing in the world and the US government is at the heart of the solution. Or so is thought. What if the US caused the black-outs? Leaves a BITTER TASTE in your mouth, right?



32

TOMORROWS DEAD.



NR
0
0
War. Sickness. Famine. In the world of tomorrow the fighting is far from being over. Where will you stand in the year 2021?



33

the River Below



6.00
0
0
Take a breath and be brave. Walk into the world of the criminal underground. Where no rule wasn't made to broken, and nothing is too scared. Murder and mayhem are nothing but games to these Death Dealers. If you have the money they have the skills. J



34

metal pentagrams



NR
0
0
1950s crime site; easy app; no word count; new york city!



35

Removed



8.33
0
0
site removed



36

HERE'S FOR THE YEARS



10.00
0
0
a supernatural school/town rp with a twist.



37

Rondeau



10.00
0
0
Set in the small village of Towerhurst in the early 1800s, Rondeau follows the lives of its inhabitants as they forge connections, make enemies, and rise in the world... or fall to their destruction.



38

Bite Me: Savannah



NR
0
0
Savannah is quickly becoming a supernatural hotspot in the balmy South; but its historic views and romantic streetviews aren't the only things drawing attention to the little gem on the river. Power struggles and infighting consume the city, and it's only



39

Babylon 2.0



NR
0
0
Babylon 2.0 is a science fiction mesh of tech-noir and post-apocalyptic elements set against a futuristic backdrop. Featuring domed cities, deadly wastelands, AI, nomads, psions, and much more it is an ever expanding setting.



40

Sunset Over Benevolence



9.90
0
0
Villagers of Benevolence fear the monsters in the woods, beautiful beings who take the form of wolves by day and hunger for human blood by night. The village is defended by what they believe to be regular cats; they too take human form come sunset.


Page:
1
[2]
Last Update: 2:26 Tue, 11-20-18
Next Update: 2:56 Tue, 11-20-18
Next Reset: 2:26 Tue, 12-18-18
Sites: 40
Powered By GoTop100.com